NEWS ON CODEX
February 13, 2023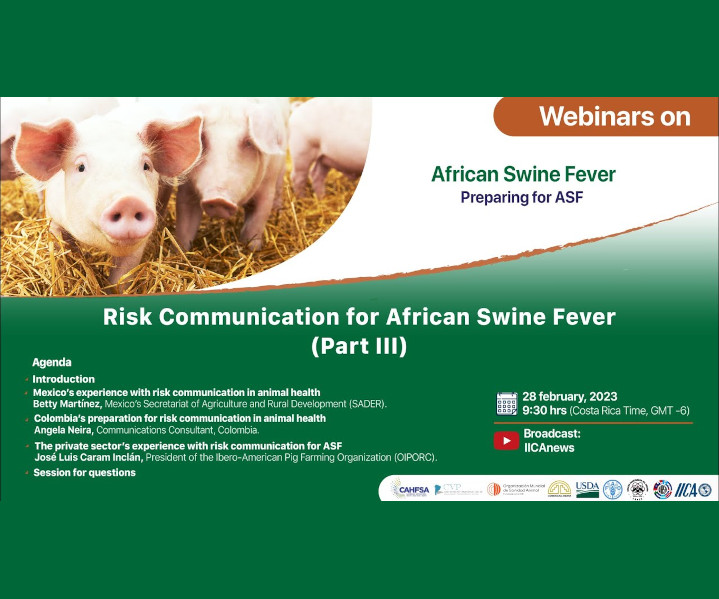 Webinar – Risk Communication on African Swine Fever (Part III)
February 27, 2023
FAO WORKSHOP ON WHOLE GENOME SEQUENCING FOR FOOD SAFETY MANAGEMENT
Call for participation: FAO workshop on Whole Genome Sequencing for food safety management
18-20 April 2023, FAO headquarters, Rome, Italy
Application deadline: 17 February 2023
The Food and Agriculture Organization of the United Nations (FAO) has issued a call for participation in a technical workshop on the use of Whole Genome Sequencing (WGS) for food safety management. The workshop will be held from 18 to 20 April 2023 in Rome, Italy. Government-sector professionals from low- and middle-income countries are invited to form a group of three (3) people within the country and review the Call for Participation to apply. (The link for the online application is included in the call document.) The application deadline is the end of the day (applicants' local time), Friday, 17 February 2023.
Once/if the group application is accepted, all the team members' travel expenses to participate in the workshop in Rome will be covered by FAO. The workshop aims to discuss in detail the benefits and impact of WGS in food safety management and regulatory actions. Several case studies from countries where the technology is already in place will be introduced during the workshop and participants will be able to consider practical and sustainable integration of WGS into their national regulatory frameworks with tailored approaches so that national contexts with limited capacities and resources, as well as country-specific challenges can be fully considered. The workshop will be organized in-person and no real-time streaming is planned. For selection criteria, please review the Call for Participation. Geographical and gender balances will also be considered during the selection process.
Any questions regarding the call can be sent to Maura Di Martino (pronouns: she, her, hers) at Maura.dimartino@fao.org, infosan@fao.org.